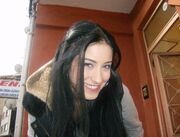 Leyla
Hazal Kaya
(d. 1 Ekim 1990, Gaziantep) Türk dizi oyuncusu. 1 Ekim 1990'da Gaziantep'te doğan Hazal Kaya liseyi İstanbul İtalyan Lisesinde okumuştur. Bilgi Üniversitesi Sahne Ve Gösteri Sanatları Yönetimi, Performans bölümüne 2009 yılında girmiştir ve halen eğitimi devam etmektedir. 2007 yılında ilk kez Genco adlı bir televizyon dizisinde başrol oynadı. Halit Ziya Uşaklıgil'in aynı adlı romanından uyarlanan Aşk-ı Memnu dizisinde Nihal'i canlandırmıştır. 14 Ocak 2011 Show TV'de başladığı Adını Feriha Koydum adlı diziyle ekranlara geri döndü.
Ad blocker interference detected!
Wikia is a free-to-use site that makes money from advertising. We have a modified experience for viewers using ad blockers

Wikia is not accessible if you've made further modifications. Remove the custom ad blocker rule(s) and the page will load as expected.